Welcome to Sounds of Frome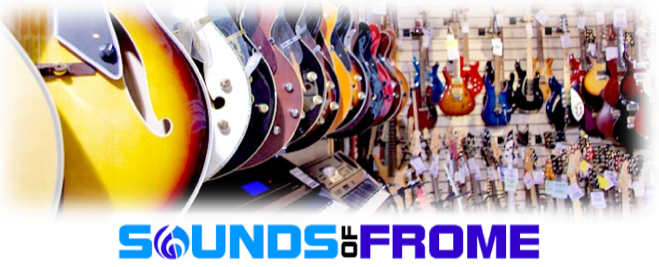 Sounds of Frome are based in the West Country within easy reach of Somerset, Wiltshire, Dorset, Bath, Bristol and North East Somerset.
Our showroom is always extremely well stocked with instruments from all the top manufacturers. In addition to all the items you might expect to see there are many really interesting and hard to find products which are sure to make any visit worthwhile.
We have been here in Frome for almost 40 years and are always happy to share our knowledge to help our customers to make the right selection.
Remember - Our website only shows a fraction of what we have in stock so if you can't find what you are looking for, give us a call or EMAIL - we can probably help!

J.Michael - FL-380SE, Flute, Silver Plated


J.Michael - FL-380SE, Flute, Silver Plated




£199.99




J.Michael - FL-250, Flute, Nickel Plated


J.Michael - FL-250, Flute, Nickel Plated




£159.99




J.Michael - CL-400, Clarinet, Ebonite


J.Michael - CL-400, Clarinet, Ebonite




£199.99




J.Michael - CL-300, Clarinet, Ebonite


J.Michael - CL-300, Clarinet, Ebonite




£149.99




Squier - Vintage Modern Custom Telecaster, 2 Tone Sunburst


Squier - Vintage Modern Custom Telecaster, 2 Tone Sunburst




£299.99




Rickenbacker - 330/12, Fireglo, *SECONDHAND*


Rickenbacker - 330/12, Fireglo, *SECONDHAND*




£1,499.00




Yamaha - DTX450K, Electronic Drum Kit


Yamaha - DTX450K, Electronic Drum Kit




£519.99




Korg - KING KORG, Virtual Analog Modelling Synth


Korg - KING KORG




£999.99




Marshall - SL5, Slash Signature Combo


Marshall - SL5, Slash Signature Combo




£599.99




Fender - Pawn Shop Special, Excelsior Pro


Fender - Pawn Shop Special, Excelsior Pro




£299.99




TC Electronic - Harmony Singer


TC Electronic - Harmony Singer




£149.99




Korg - PA3X, Professional Arranger Workstation


Korg - PA3X, Professional Arranger Workstation




£2,999.99




Samson - Expedition xp510i


Samson - Expedition xp510i




£479.99




Fender - Select Telecaster, Gold Hardware, Birdseye Maple Neck


Fender - Select Telecaster, Gold Hardware, Birdseye Maple Neck




£1,799.99




Fender American, Lite Rosewood Telecaster, Tele-bration Series


Fender American, Lite Rosewood Telecaster, Tele-bration Series




£1,399.99




Fender - American Special, Stratocaster HSS, Black, Rosewood


Fender - American Special, Stratocaster HSS, Black, Rosewood




£699.99




Fender - American Stratocaster Eric Clapton Signature


Fender - American Stratocaster Eric Clapton Signature




£1,399.00




PRS - Custom 24 25th Anniversary, ONE ONLY!


PRS - Custom 24 25th Anniversary




£2,995.00

£2,399.99




Rickenbacker - 360/6, Fireglo Finish, with/Case


Rickenbacker - 360/6, Fireglo Finish, with/Case




£1,899.99




Rickenbacker - 620/6, Mapleglo


Rickenbacker - 620/6, Mapleglo




£1,495.00

£1,399.99




Martin - D-1GT


Martin - D-1GT




£959.99




Martin - DRS1


Martin - DRS1




£739.99




Shure - PG56 Drum Microphone


Shure - PG56




£72.45




Shure - PG52 Kick Drum Microphone


Shure - PG52




£126.00




Shure - PGDMK4, Drum Microphone Kit


Shure - PGDMK4, Drum Microphone Kit




£254.47




Shure - SM48


Shure - SM48




£67.00




Shure - PG24UK/PG58


Shure - PG24UK/PG58




£209.00




Shure - Beta 91A PRO BOUNDARY MIC


Shure - Beta 91A




£245.00




Shure - Beta 87A PRO CONDENSER VOCAL MIC


Shure - Beta 87A




£288.00




Shure - Beta 57A


Shure - Beta 57A




£136.50




Shure - Beta 58A LEGENDARY VOCAL MIC


Shure - Beta 58A




£162.00




Shure - Beta 52A PRO BASS DRUM MIC


Shure - Beta 52A




£175.00