EHX - Holy Stain Multi-Effects Pedal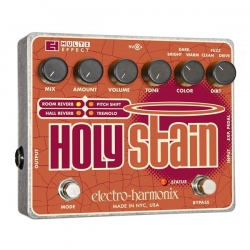 Click to enlarge
Price: £114.00
Availability: In Stock
Model: Holy Stain
Electro-Harmonics - Holy Stain Multi-Effects Pedal
The Electro-Harmonix Holy Stain lets you combine reverb, pitch shifting, and tremolo with analog Drive and Fuzz effects for an interactive stew of gargantuan sonic proportions.
Controls for all these effects are very interactive, so you know you'll be getting something new out of the Holy Stain pedal just about every time you use it.
As with all E-H products, this pedal is solidly constructed and uses top-notch components. Enter a whole new world of effects possibilities when you step on the Holy Stain pedal and tweak to your heart's content!
Specifications
Reverb

Pitch-shift

Tremolo

Analog Drive

Analog Fuzz


Call
01373 462 083
for more information.
There are no additional images for this product.