Squier Affinity Series Telecaster (Racing Green)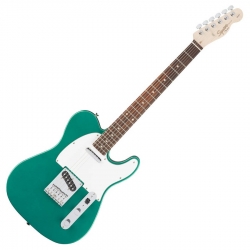 Click to enlarge
Price: £199.99
Availability: In Stock
Model: Affinity Series Tele
The affinity series Telecaster is crafted from a solid alder body with a maple neck and rosewood fingerboard, delivering powerfully bright, clear tones with beefy mids and thick lows. While the alder tonewood provides strong, full-bodied sounds, the maple and rosewood combination opens up the guitar's midrange and gives the highs plenty of warmth and sparkle.
Featuring a set of vintage-style single-coil tele pickups, the Squier produces a classic telecaster twang, accompanied by sweet, warm tones. Its 6-saddle tele bridge and die-cast tuners ensure the guitar stays in-tune, while enhancing string resonance for an incredible sustain. A volume, tone and 3-way selector provide control over the guitars pickups, allowing you to create a range of powerful tones.
The Affinity Series Telecaster has a proud heritage, taking after the Fender telecaster which has been seen in the hands of some of music's finest guitarists. The contoured solid alder body is the same world-renowned style used by a rage of musicians, from Bruce Springsteen to Status Quo, it's presence can be felt in many a classic rock anthem. and thousands more. The Squier Affinity offers supreme playability as well as a great tone. The simplicity of this guitar allows it to be versatile with all types of players and styles.
There are no additional images for this product.