Fender American Pro Stratocaster Sienna Sunburst Maple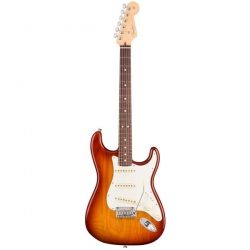 Click to enlarge
Price: £1,399.99
Availability: In Stock
Model: American Pro Series Stratocaster
Fender American Pro Stratocaster Sienna Sunburst
This Fender American Pro Stratocaster in Sienna Sunburst features a maple neck with a Maple fretboard. New for 2016/2017 it replaces the outgoing USA Standard Strat. Another evolution of one of the greatest electric guitars of all time! The Fender American Professional Strat in Sienna Sunburst comes with three V-MOD Single Coil Pickups, providing a versatile setup for both cleans and overdrive, and a Rosewood Fretboard.
Often copied, but never surpassed, the Fender Stratocaster is arguably the world's most-loved electric guitar. Electrifying the music world since its debut in 1954, its natural, versatile sound made the Strat the benchmark for exceptional guitar tones. The Fender American Professional Stratocaster Sienna Sunburst Maple isn't a re-imagining of the classic design; it's the authentic original model, evolved. The choice of musical legends since its release, the Fender Stratocaster feel and sound set the world on fire, powering music movements from electric blues to EDM, and everything in-between. In your hands this Strat is ready to navigate the creative twists and turns of your music, inspiring you to express yourself in new ways through your playing. Developed by pickup master Tim Shaw, the brand-new V-Mod single-coil pickups are voiced specifically for each position, mixing alnico magnet types to produce powerful, nuanced tones with original Fender sonic DNA. Retain high end clarity when adjusting the volume controls, thanks to the new treble-bleed tone circuit that lets your tone shine through in all its glory. The new modern Deep C-shaped neck profile feels just right in your hand while the narrow-tall frets make it easy to bend strings accurately and play perfectly intonated chords. The best of yesterday and today, the Fender American Professional Stratocaster is the latest form of electric inspiration from Fender. Step up and stake your claim to a legend.
There are no additional images for this product.