VOX - NT15H, DISPLAY SPECIAL! ONE ONLY!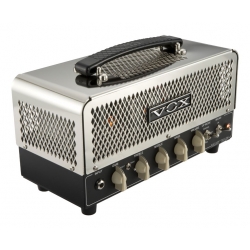 Click to enlarge
Availability: In Stock
Model: VOX - NT15H, DISPLAY SPECIAL! ONE ONLY!
VOX - NT15H
Add your hot sound to a late night demo; sit in at your favorite club; jam with friends; cut tracks across town – or do it all in a single day! The Night Train NT15H is your new best friend. Whenever and wherever, Night Train is ready to deliver that smooth and satisfying all-tube sound. We understand that you don't want to choose between killer sound and total convenience. And with Night Train you never will.
If Looks Could Kill
Night Train is one sexy beast. Solid enough to inspire confidence, Night Train weighs less than seventeen pounds - and the "armored lunchbox" dimensions provide extreme portability. Finished with a cool chrome mirror-finish, the signature VOX diamond design reveals that inspiring vacuum tube glow. And of course, the Night Train NT15H includes its own padded carry case to protect your investment.
True Tube Power
The sound is pure VOX. Inside, a pair of EL84 tubes deliver on the tube power promise. Two 12AX7 tubes drive the preamp stage with both power and clarity. This is the same winning tube complement as the classic VOX AC15. From chime-like clean tones to the warmest overdrive, there is no mistaking that harmonic richness of pure tube performance.
Dual Nature
A single switch lets you select between Pentode or Triode tube operation. In the Pentode mode, Night Train delivers a full 15 watts of power. In the Triode mode, the power is cut to 7.5 watts. The Triode mode also relaxes the tube power stage, letting that silky-smooth, mellow tube character shine through.
Preamp Pizzazz
Night Train greets you with a clear, simple panel design; offering the familiar Gain and Volume controls. The Tone controls include Treble, Middle and Bass, allowing you to dial up just the right character for your individual, signature tone. In addition, the preamp section features a mode switch, offering both BRIGHT and THICK options. The BRIGHT mode accentuates the high-frequency components for a clear, ringing tone; the THICK setting bypasses the tone circuit to boost the gain and create a chunkier, heavier sound.
Call us on - 01373 462 083 for more information!
There are no additional images for this product.