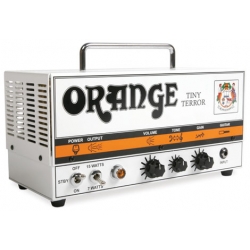 Click to enlarge
Price: £343.99
Availability: Pre-Order
Model: Orange - Tiny Terror
Orange - TT15H
The "Original Lunchbox" amp with more than 30,000 units sold. The Tiny Terror is an amp for both the studio and the stage.
All valve, 15 watt portable guitar head. Featuring a unique two stage pre-amp which has a massive tonal range using just three controls. When driven, this little amp has almost as much gain as most four stage lead channels! The Tiny Terror puts a lot of high-priced, boutique amps to shame with its clean crunch to full on overdrive sounds. At mid gain settings this valve head has masses of vintage British character; the Tiny Terror has been built to the same rugged specification as the bigger Orange amps and its portability makes it perfect for gigging around town or rehearsing. The Tiny Terror switches from 15 to 7 watts for studio use and recording.
Call us on - 01373 462 083 for more information!
There are no additional images for this product.