Fender - Pawn Shop, Greta Amplifier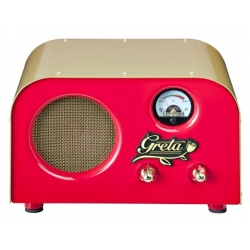 Click to enlarge
Availability: Out Of Stock
Model: Fender - Pawn Shop, Greta Amplifier
Fender - Pawn Shop, Greta
In the playfully diminutive form of a vintage tabletop radio, the Pawn Shop Special Greta model is quite possibly the most unusual Fender tube amp ever.
An amp is exactly what it is-a two-watt tabletop beauty with a 4" Special Design speaker, old-school VU meter with "clean to overload" indicator display and simple volume and tone controls. Its charmingly vintage-style enclosure has front and rear wood panels finished in bright red, gold-finished metal top and sides for increased shielding, "Greta" script badge on the front panel and tabletop feet.
Under the hood and on the back panel, the Greta features a single 12AT7 output tube and 12AX7 preamp tube, with a 1/4" instrument jack and 1/4" line out jack (for preamp use with another amplifier). Greta produces a variety of low-volume clean and overdriven guitar tones.
There are no additional images for this product.