On Stage - Single 'X' Stand, 5 Position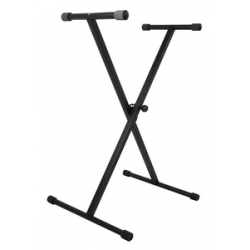 Click to enlarge
Price: £29.99
Availability: In Stock
Model: On Stage - Single 'X' Stand, 5 Position
5-Position disk clutch w/ bullet nose pull knob. 1x1" Tubing. Height adj.: 27-38", base spread: 11-31", 90 lbs. capacity. Bolted.
Many of today's musicians like things simple and affordable. That's why we continue to offer this popular Single-X with its classic bullet-nose pull knob and upgraded, stronger 1" square tubing.
Call us on - 01373 462 083 for more information!
There are no additional images for this product.