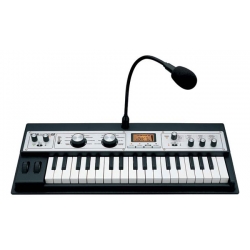 Click to enlarge
Price: £419.99
Availability: In Stock
Model: Korg - MicroKorg XLPlus
Korg - MicroKorg XL Plus
With its unmistakably unique exterior and its inimitable sound, the MicroKorg set the standard for analog modeling synthesizers. The year 2008 saw the introduction of the MicroKorg XL, which inherited the MicroKorg 's fat and powerful sounds, while adding keyboard staples such as electric piano and CX-3 organ. And now, in the next evolutionary step, the MicroKorg XL+ delivers a fresh update to the sounds and look of the MicroKorg XL, making it an ideal compact keyboard.
Highlights: Even more vintage sounds, including the KORG SGproX piano, M1 and VOX organs and well-known "Tape" instruments 128 onboard sounds, plus 640 additional sounds included with the Editor/Librarian for Mac and PC!
New yet nostalgic - black panel "new vintage" design Featuring MMT - the distillation of Korg's analog modeling technology Vocoder with included gooseneck microphone.
A powerful Kaoss effects engine – the kind of effects that you would expect from Korg Korg's proprietary Natural Touch mini-keyboard, designed with an emphasis on playability Battery powered operation is supported for increased portability.
Call 01373 462 83 for more information.
There are no additional images for this product.