EHX - Silencer Noise Gate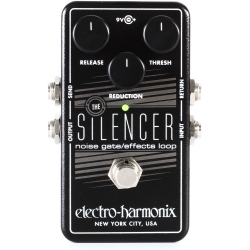 Click to enlarge
Price: £54.00
Availability: In Stock
Model: Silencer
Electro-Harmonix - Silencer Noise Gate
The Electro Harmonix Silencer Noise Gate is an advanced noise gate that is great for sorting out unwanted buzzes and hum that came come from using single coil pickups or huge amounts of gain. Unlike most noise gates which have one control, the Silencer has three parameters for fine-tuning your noise suppression.
The Threshold control adjusts how much noise is required to open the gate, the Reduction knob regulates the degree to which the gated signal is reduced and is variable between -70dB and +4d, while the Release knob lets you decide how long the gate remains open after the signal drops below the Threshold. You can vary it between a natural-sounding 4 seconds and a dead-sharp 8 MILLISECONDS!!
The Silencer has 1/4 inch input, output, send and return jacks. The footswitch selects whether The Silencer is engaged or in bypass mode. The buffered bypass lets the effects loop remain in your signal path when the gate is bypassed. A built-in AC jack accepts a standard power supply like the EHX 9.6DC unit (optional) and the pedal comes with a 9V battery. If you want unprecedented control over removing noise from your sound, look no further than the Electro Harmonix Silencer Noise Gate.
Call
01373 462 083
for more information.
There are no additional images for this product.