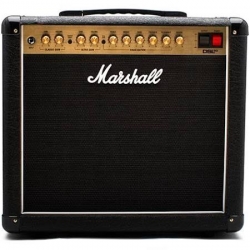 Click to enlarge
Price: £569.00
Availability: In Stock
Model: Marshall - DSL20CR
Marshall - DSL20CR
An evolution of the Dual Super Lead range, with features and functionality for home players to serious stadium musicians.
New DSL 20W Combo
• Gain and volume per channel
• Dedicated resonance control
• EL34 valves
• Celestion Seventy-80 speaker
• High and low power settings
• Reverb
• Softube® Emulated output
Adjustable power output
The new DSL models feature adjustable power settings which provide all-valve tone at appropriate volumes for the bedroom to the stage.
Unlike traditional power settings, the technology on the larger DSL models reshapes the power to the valves instead of turning off valve
stages. This gives you the best all-valve tone at both low power or full power.
EQ adjustments
Some careful tweaks to the EQ circuitry have moderated the overly bass-heavy sounds that some previous DSL models had out of the
box. Don't worry - you can dial it back in with the EQ should you wish.
Emulated output
Our partnership with Softube® has led to award-winning plug-ins and exceptional tone in our CODE digital amps. This same partnership
is behind the new emulated output feature. Both the headphones and line out on the DSL models benefit from accurate emulation of our
famed 1960 cabinet.
There are no additional images for this product.