STUDIOMASTER SYS5 PERSONAL MONITOR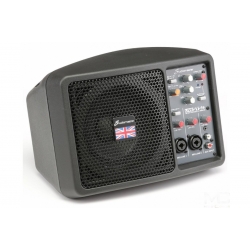 Click to enlarge
Price: £159.99
Availability: In Stock
Model: SYS5 PERSONAL P.A. MONITOR
STUDIOMASTER SYS5 PERSONAL MONITOR
The LiveSys5 is a 150 Watt active PA/Monitor speaker with a flexible integrated mixer section. Its Class D amplifier drives a ported, full-range 5" loudspeaker and is capable of 300 Watts of peak power, making the LiveSys5 ideal for "spot monitor" applications on stage. Although it obviously isn't going to sound like a full-size PA system, the available power also allows its possible use in smaller situations where a larger PA would be inappropriate.
The low-noise onboard mixer is well thought-out with two Mic/Line inputs on XLR / ¼" Jack combination connectors, each with its own Level control and common switchable 48V phantom power. A third input, again with its own Level control, carries both RCA phono and mini-jack connectors allowing the connection of an mp3 player, CD or computer. Channel 1's input impedance can be switched to cope with direct connection to an instrument, turning that channel into a DI box. A vocal echo effect can be applied either to both Channels 1 and 2 or just to Channel 2. A 3-band EQ acting at 100Hz, 2.5kHz and 12kHz and an overall Main Level control complete the front panel. At the rear, another combination XLR/Jack socket allows the connection of a stage monitor signal or a feed from another Livesys5, and the Thru XLR output is mic/line level selectable so that you can send the LiveSys5 mixer output to, for example, a FOH mixer or another LiveSys5.
The moulded cabinet has an integral socket on its bottom side which mates with a moulded insert to allow you to position the LiveSys5 on a microphone stand. A threaded insert on the top takes an adaptor to which you can attach a boom-arm so that a standing vocalist has a personal monitor that is already in the perfect position.
Measures 290 x 210 x 175mm, and weighs in at 3.3kg.
If you're interested in this amp call us on 01373 462083 for more information or visit our store to give it a try yourself!
There are no additional images for this product.