KORG Nu:Tekt NTS-1 Digital Synth Kit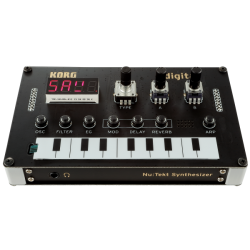 Click to enlarge
Price: £99.99
Availability: Pre-Order
Model: KORG Nu:Tekt NTS-1 Digital Synth Kit
Belying its size, the Nu:Tekt NTS-1 features a digital oscillator inspired by the MULTI engine as found on the acclaimed prologue and minilogue xd, along with an extremely capable arpeggiator including multiple ranges, scales, and modes, plus dedicated spatial, modulation, and delay sections, each with multiple settings to explore.

With a single monophonic digital oscillator, one multimode filter, on EG, three LFOs, three stereo effect processors, and full arpeggiator, the NTS-1 is a very powerful, flexible, fun-to-explore synth.
There are no additional images for this product.