On Stage - Boom Mic Stand, Black, MS7701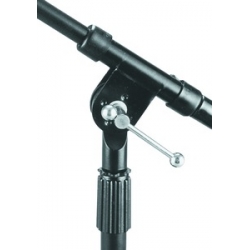 Click to enlarge
Price: £29.99
Availability: Pre-Order
Model: On Stage - Boom Mic Stand, Black, MS7701
Our best selling stand! Features a steel midpoint locking clutch, 30" removable boom. Tripod base folds flat. Black finish.
Our best selling stand! This Euro Boom boasts a hybrid sheet metal and composite leg housing, making it virtually unbreakable. With a removable boom arm and its ability to fold flat, this stand is a must for every member of the band. Features a zinc mid-point clutch and black finish.
Call us on - 01373 462 083 for more information!
There are no additional images for this product.

BOSS - VE-20
VE-20
£217.99

Shure - SM58-LC
SM58-LC
£94.99

Shure - A85F Line Matching Transformer
Shure - A85F Line Matching Transformer
£24.99

Shure - Super 55
Shure - Super 55
£179.99

QSC - K8, 1000w Powered Speaker
QSC - K8, 1000w Powered Speaker
£659.99
£639.99

Yamaha - MSR100
MSR100
£369.99
£299.99

Yamaha - MSR250
MSR250
£329.99

Yamaha - MSR800
MSR800
£715.00

QSC - K10, 1000w Powered Speaker
QSC - K10, 1000w Powered Speaker
£699.00
£689.00

QSC - K12, 1000w Powered Speaker
QSC - K12, 1000w Powered Speaker
£799.99
£749.99

On-Stage - Tripod Speaker Stands
OS - Tripods
£39.99

Shure - SRH240
SRH240
£46.50

Shure - SRH440
SRH440
£69.99

On Stage - SS7761B, OSS Speaker Stands, Aluminium
On Stage - SS7761B, OSS Speaker Stands, Aluminium
£34.99

On Stage - Cup Holder, Perfect for Drum or Vocal Stand
On Stage - Cup Holder, Perfect for Drum or Vocal Stand
£9.99

On Stage - Pop Blocker 4", Black
On Stage - Pop Blocker 4", Black
£14.95

On Stage - Pop Blocker 6", Black
On Stage - Pop Blocker 4", Black
£15.95

Yamaha - Pocketrak W24
Yamaha - Pocketrak W24
£179.99
£199.99

Mackie - TH12A, 12" Active Loudspeaker
Mackie - TH12A, 12" Active Loudspeaker
£239.99

KORG - Monotribe, Analog Ribbon Synth
KORG - Monotribe, Analog Ribbon Synth
£149.99

Yamaha - Stagepas 400i
Yamaha - Stagepas 400i
£545.00

Shure - PGA58-XLR
Shure - PGA58-XLR
£59.99

Shure - SM57-LC
Shure - SM57-LC
£91.50

Shure - SM58-S Legendary Vocal Mic WITH A SWITCH
SM58-S
£109.99

Samson - Expedition xp510i
Samson - Expedition xp510i
£549.99

Korg - KR Mini
Korg - KR Mini
£59.99

Shure - 55SH-II, Legendary Elvis Microphone
Shure - 55SH-II, Legendary Elvis Microphone
£141.50

Shure - MV-5 Digital Condenser Microphone
MV-5
£99.50

Yamaha - Reface YK
Reface CP
£339.99

Yamaha - Reface CP
Reface CP
£339.99