Peerless - Virtuoso 'Martin Taylor' ONE ONLY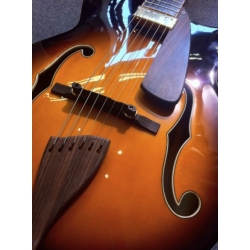 Click to enlarge
Price:
£1,799.00
£1,499.00
Availability: In Stock
Model: Peerless - Virtuoso 'Martin Taylor'
Peerless - Martin Taylor - Virtuoso (Display Model)
The Martin Taylor Virtuoso also comes with a 381mm wide, 70mm deep body and 59mm neck but is fabricated in laminated antique sunburst spruce top and laminated flame maple back and sides. The fretboard, bridge, tailpiece and pickguard come in Indian Rosewood and a gold effect floating mini-humbucker which compliments the guitar beautifully. Once again, the volume control is discreetly located under the pickguard for an overall understated but classy look.
Call us on 01373 462 083 for more information.